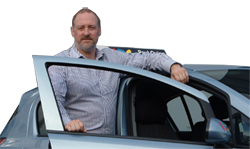 About me
Learning to drive can be a stressful experience, but it does not have to be. With nearly 30 years of driving experience behind me, my aim is not just to help you pass your Driving Test, but to help you become a safe, confident driver.
Over the years I have driven everything from motorbikes, many different cars from old bangers to BMW's and lorries from 7.5 tonne up to 44 Tonne Articulated unit and trailers. Every different vehicle has taught me something new or different about driving
I have always been involved in training other people, whether it was in completely new skills or raising the standard of skills already learnt.
I am able to assess and then tailor all my training to your individual needs, from complete novice through to refresher courses for more experienced drivers. This includes the Pass Plus programme, for post Test training, regulated by the DVSA (Driving Standards Agency)
Coupled with this knowledge and the Learner Driver System, my aim is to make your learning experience an enjoyable one.
I am an ADI, which is an Approved Driving Instructor, Registered and controlled by the DVSA and also a member of the Driving Instructors Association (DIA)
Well I hope this gives you a brief Idea about me so please feel free to click here to "Contact me"